A radical new story for the most sustainable fish in the world
Omegabaars can save the world and the oceans, and still provide us with delicious fish to eat. Shaved Monkey brought the Omegabaars story to the people.
Deliverables
Communication strategy
Marketing plan
Rebranding
POS communication
Social media
Packaging
With this fish, everything changes
Omegabaars is a 'new fish' that's farmed on land and fed vegetarian food, thus leaving the fish in the sea in peace. How can we bring this product and its meaning to the people? How can we get into their hearts as well as onto their plates? Shaved Monkey decided to tell the real story.
"No communication agency questioned our proposition and engaged with us as authentically as Shaved Monkey did. Thanks to their insight into people and the world, we've taken a radically different marketing path in which storytelling turned us from an anonymous fish with a commercial proposition into a brand that people genuinely love. From anonymity on the shelf to primetime on Studio Brussel: I wouldn't have dared to dream it."

Sustainable Fish Farmer - Omegabaars
To know Omegabaars is to know Stijn
The man behind tomorrow's fish is Stijn Van Hoestenberghe, a visionary and adventurer at heart. From a six-year-old boy with an aquarium of goldfish, he grew into a surfer, biologist and eventually ichthyologist with a mission. With his Omegabaars, he's not only breeding just about the most sustainable fish in the world, he's writing a disruptive story that's turning the entire food industry on its head. We believed in his authentic power and that his story touches hearts.
The real story is untold
After a thorough review of the existing brand strategy, we found that, until then, the company hadn't really told the world what makes their product so great. The fish was promoted as 'firm, healthy white fish with no bones', but that was all. We tested out our vision that things needed to change through a survey on exactly what consumers think about fish and sustainable food.
The fish of tomorrow
This is how we got to the heart of Omegabaars: a revolutionary, disruptive fish that will save the oceans from overfishing. Moreover, it's the work of a true visionary who took the plunge with a simple 'what if' idea and now farms the world's most sustainable fish in Kruishoutem, Belgium. Which is why we now tell Stijn's story of Omegabaars with the tagline 'the fish of tomorrow'.
Power in the new narrative
The drivers throughout all our communication remain 'tasty', 'healthy' and 'sustainable', but the brand's real power to touch people lies in this new story. It's a story that we consistently extend to every element of the business: from the website and magazine to the packaging and visitor centre.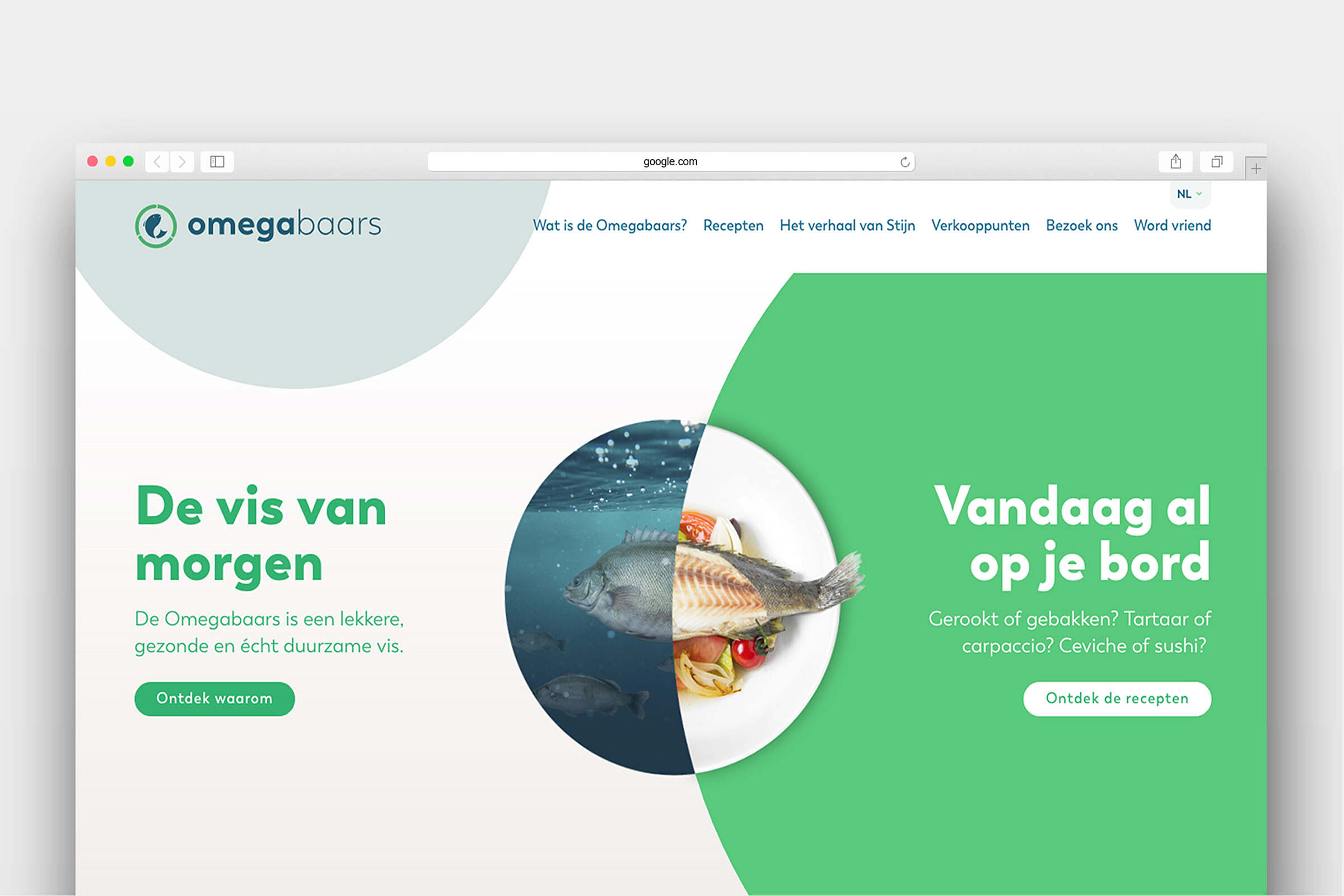 Hooking the media
From an anonymous fish with a commercial proposition, we've created a brand that people genuinely love. A serious shift in communications, then, that ensures Omegabaars is widely picked up by newspapers, radio and others. It's proof that good stories are easily told. That's always been true, and it's still true today.
Want to talk?
Find out if we can move your organisation, network or project forward with a no-obligation initial meeting.